Have you heard of Stitch Fix? A few of my favorite bloggers (see here and here) reviewed the service and they definitely piqued my interest! The basic idea is that you fill out a Style Profile querying size and style information and then a stylist will fill up a box with five pieces of clothing/accessories they think you'll love and send it to you. You pay a $20 styling fee up front, but it can be applied to any item that you decide to keep. And what you don't love, you send back in a pre-labeled bag they include in your box.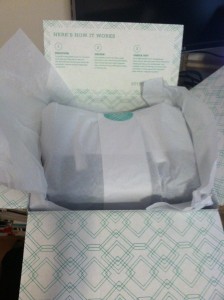 With graduate school starting, I wanted to get ideas for a few put together and somewhat professional outfits I could wear to class daily. Not surprisingly, school work is keeping me so busy that it's hard to make a trip to the grocery store, let alone go shopping for several hours to try on clothes! So, I was hoping that Stitch Fix would be a perfect solution for my needs.
I received my box in the mail today after 3 weeks of waiting and much anticipation. Unfortunately, I was extremely disappointed by the pieces included in my Fix. Check them out below.
First up was a cranberry colored silk blouse. Sounds great right? Unfortunately the proportions of the blouse were way too large for my frame. The pockets hit me in a weird place and I immediately knew it wasn't going to work for me.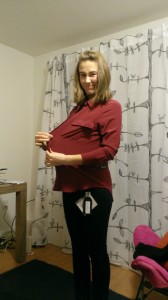 Next in the box was a chambray shirt. Though I love a good denim top, I already have a great one. This one fit me well, but the wash was faded in strange places (hemline, front shoulders, back shoulders). Another no.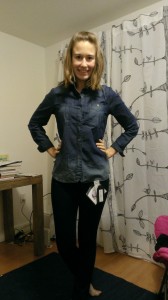 I know part of Stitch Fix is becoming more adventurous in your clothing choices but this one was WAY out of my style range. A faux suede moto inspired jacket? I prefer classic, casual chic clothing and this was definitely an edgy piece. Not for me.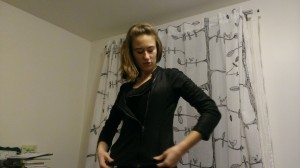 Here is the dolman sleeved sweater I'm still debating on. It's cropped in length, which is cute but awkward, and the color is not what I would usually go for. The stylist did a good job of pulling this from my style inspiration board on Pinterest because it is a style I love. I'm just not totally sold on the color/length yet. Giving it another day to think about before sending my returns back.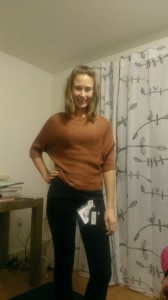 And styled with a scarf!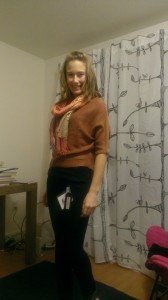 My fifth item was the jeans I was wearing in each photo. Though I didn't get a good shot of them, they were dark skinny jeans from a made in the USA brand. Unfortunately, the pants were super skinny, contained more synthetic material than I usually look for in my jeans (98% cotton, 2% elastane), and weren't going to make the cut.
Other individuals have posted rave reviews of Stitch Fix online, so I'm not sure if I didn't clearly communicate my style preferences in the profile or if I'm just too particular, but I'm really hesitate to order another Fix. If I decide to return the sweater, which is likely, I'll have paid $20 for pretty much nothing. I would have been thrilled to keep all five items in my box if they had worked out, but I didn't love a single thing! Instead of being a fun experience, it was just disappointing. I would be much happier with the experience if they would apply your $20 styling fee to another shipment if the first did not work out at all. It makes sense that it may take time for your stylist to figure out what you love, but that doesn't mean I can afford the styling fee every time when no clothing works out.
Overall, I'm glad I tried it out because it is a fun and innovative concept.  It may improve with time since it is a relatively new service. But for now, I'm not sure I would recommend using their services.
Have you heard of Stitch Fix and would you ever try them out? Or do you have other tips for getting styling help? Would love to hear your thoughts!